Asia Philanthropy Congress 2023
Dec 1 @ 09:30 - 17:30 JST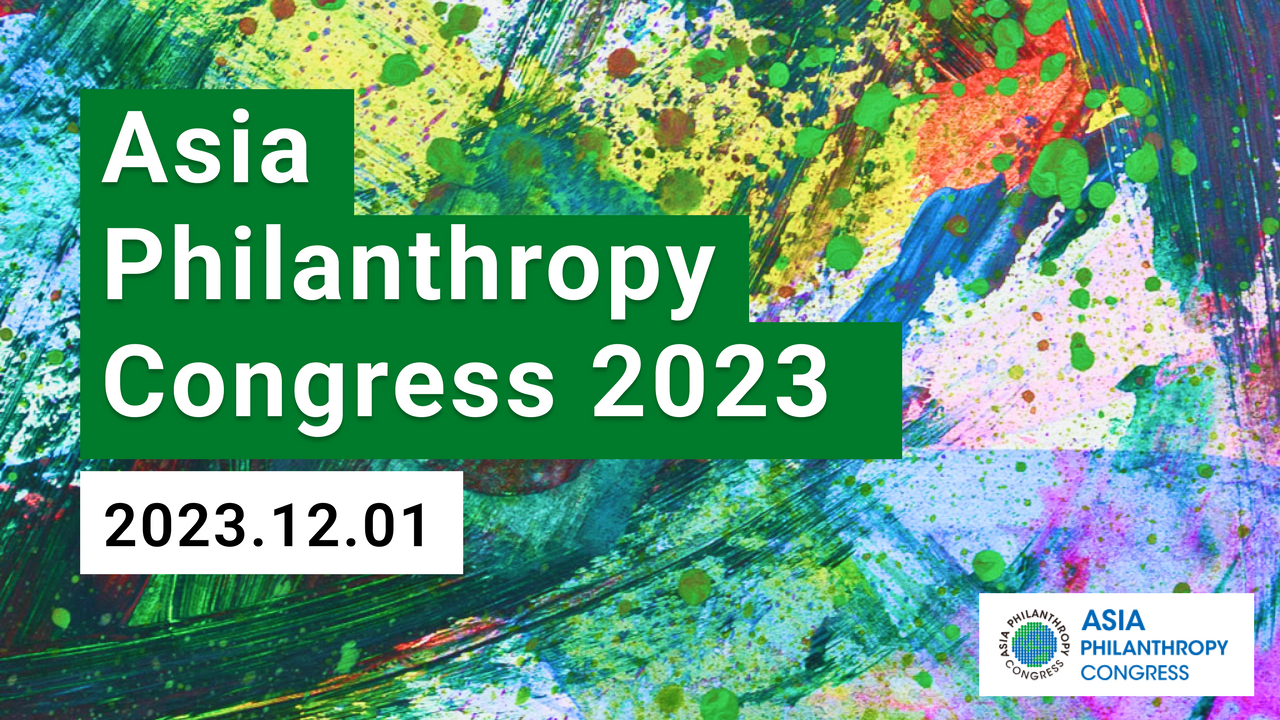 Details:
Are you interested in promoting Diversity, Equity, and Inclusion (DE&I) in Asia and want to learn how to start?
Or do you want to know why DE&I is vital to today's Asia and how we all can benefit from promoting DE&I?
If your answer is "yes," then the Asia Philanthropy Congress is for you!
Join the Second Asia Philanthropy Congress (in Tokyo or online) as we discuss the current state of DE&I in Asia, the benefits of advancing DE&I, and the role of the philanthropic sector in this process. There will be an opportunity to connect with other philanthropic organizations from across Asia, to learn from each other about best practices, and to explore collaboration for future social innovation.
Come join us!
🗓️ Date: Friday, December 1, 2023
⏰ Time: 9:30 am - 5:00 pm (JST, GMT+9:00)
📍 Venue: HYBRID from HOTEL GAJOEN TOKYO
🗣️ Languages: Japanese, English, Japanese Sign Language, International Sign (Interpretation provided)
💸 Participation Fee: FREE (Registration required)

The Nippon Foundation is announcing the Asia Philanthropy Conference 2023, where the philanthropy sector in Asia will gather together.
In 2023, DE&I will be the main theme, and multiple sessions will be held with themes such as art, sports, and conflict prevention.
Although it will be a hybrid event, there will be a social gathering after the lecture at the face-to-face venue (Hotel Gajoen Tokyo), so please come and join us.
Program Details
The Asia Philanthropy Conference was launched in 2022 to invite the heads of organizations in the field of philanthropy, including foundations that work to solve social issues in the Asian region, and to promote cooperation and collaboration to solve issues. I did. Support activities through philanthropy, which refers to charity activities and social contributions, can provide support with a sense of speed in areas where public support from government agencies, corporate activities, social investments, etc. cannot provide sufficient solutions. It has that advantage. This conference aims to bring together leaders from Asia's philanthropy sector, including foundations that lead such efforts, to jointly find solutions.
The theme of the second conference is DE&I (Diversity, Equity, and Inclusion). DE&I is the basic idea in order to strengthen a society where no one is left behind and where the path to social participation is equally open to everyone. All sessions at this conference will have DE&I as the core theme, and discussions will be held from various angles.
On-site Participation
Registration deadline: Friday, November 24, 2023, 12:00 (Japan time, GMT+9:00)
Information regarding conference participation will be sent to your registered email address by the Asia Philanthropy Conference Registration Officer shortly before the conference.
The number of seats is limited, so if we receive a large number of applications on the day, we may not be able to accommodate your request. Those who do not have the opportunity to participate locally can also participate online.
Online Participation
Registration deadline: November 30, 2023 (Thursday) 12:00 (Japan time, GMT+9:00)
Immediately after registration is completed, the above information (participation site link, ID, password) will be automatically sent to your registered email address. Please be sure to check your email.