Behind The Scenes of The PayPay Design Team for UI/UX designers
Nov 30 @ 18:00 - 20:30 JST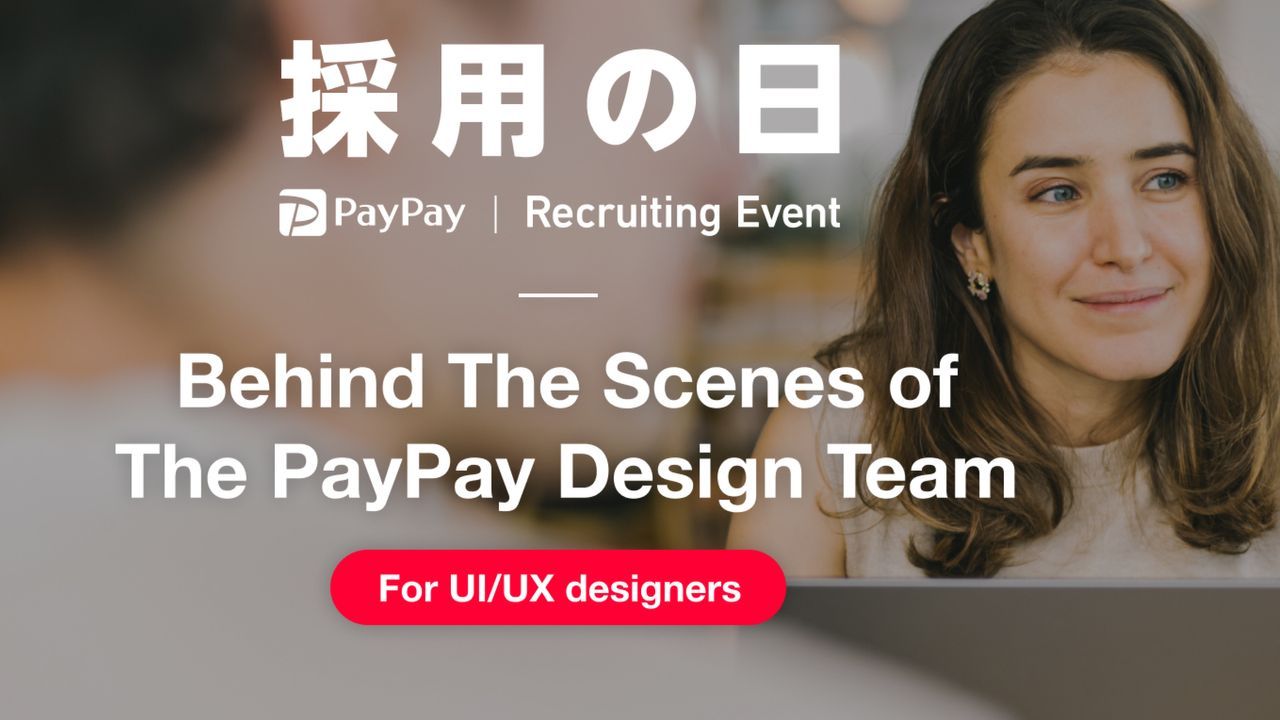 Details:
PayPay's first On-site recruiting event for UI/UX designers will be held at PayPay Takeshiba office
PayPay has exceeded 60 million users (as of October 2023) in five years since it launched in 2018. An essential part of the growth is the diverse product members from more than 50 different countries and regions around the world.
This recruiting event will be held On-site at PayPay's headquarters in Tokyo. For designers who are looking for new challenges and growing opportunities are welcome to join!
We are excited to guide you through PayPay's product creation, design challenges, as well as the team mission, culture and working style. Besides, don't miss the chance to have a casual chat with our designers during the networking session.
Date:
Thursday, November 30th, 2023 at 18:00-20:30
---
Location:
PayPay Takeshiba office (Tokyo Port City Takeshiba Office Tower)
https://www.google.com/maps?ll=35.655231,139.760442&z=17&t=m&hl=ja&gl=JP&mapclient=embed&cid=15412777036608663235
---
How to ENTER
Please enter here
---
Recommended for someone who are:
- Working as a Product Designer or UI/UX Designer
- Interested in PayPay's design and mission
- Looking for next challenges as a designer
- Wanted to work in FinTech
---
Event Timeline
18:00-18:05 Opening
18:05-18:20 Introduction of Design Team / Yagi
18:20-18:35 UX Research at PayPay / An & Polly
18:35-18:40 Break Time
18:40-19:10 Panel Discussion
19:10-19:15 Introduction of Product Designer Position
19:15-19:45 Q&A
19:45-20:30 Networking Time
*Time allocations and content are subject to change without notice.
- The event is free of charge.
- The number of seats is limited due to the venue. Please note that if we receive a large number of applications, we may hold a lottery.
- The reception will be open from 17:30 to 18:00. Please come to the reception counter on the 6th floor of the building within the scheduled time.
- The event will not be live-streamed.
- Simultaneous interpretation between Japanese and English will be available.
- The content of this event may be published on PayPay's blog or PayPay's media. Photos of the event will be presented in a form that does not identify individuals.
- Pre- and post-event questionnaires and personal information obtained through this event will be handled in accordance with our privacy policy. Please confirm and agree to this policy before participating in the event by filling out the registration form.