From Good to Great: Building Stronger Teams with Type
Nov 29 @ 19:30 - 21:30 JST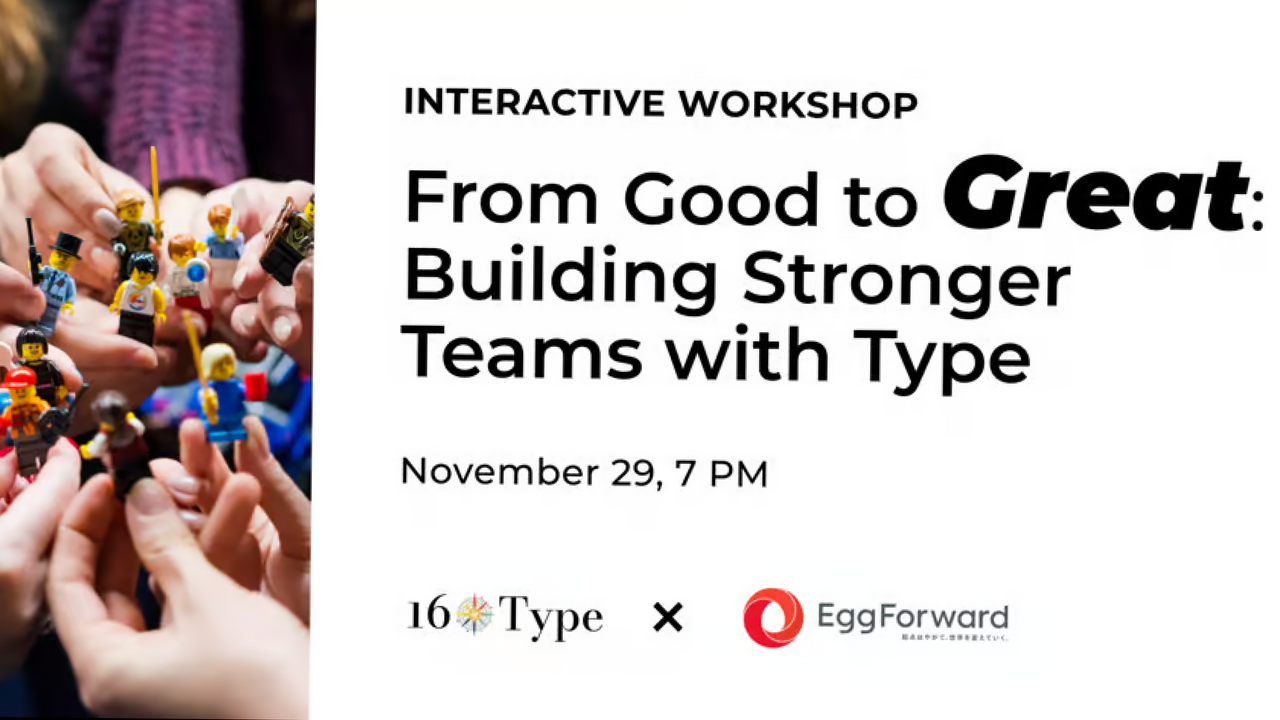 Details:
Join us for an interactive workshop that'll boost communication between you and your team. Say goodbye to misunderstandings!
Harumi Gondo, with over 10,000 hours of practice, will share proven methodologies to harness one's potential and build team success all by knowing how to communicate with others.
How? By zooming into the T-F-J-P personality types. A bit confused? Don't worry. Harumi will walk you through what those letters mean, where you (and your teams) are in terms of communication preferences, and finally, how to fill the gaps to be a stronger team.
Whether you're a manager looking to enhance teamwork or an individual interested in improving professional relationships, this workshop is designed to provide practical skills and insights. Don't miss this chance to maximize your team's performance and take them from good to great!
🚨 The Not-so Fine Print 🚨Feel free to bring your dinner and drinks into the venue, but be sure to take the trash with you after!
🗓 Agenda
Intro
Workshop
Casual mixer
Outro
***
🗣 Our Speaker
Harumi Gondo 権藤晴美
MBTI Master Practitioner / Founder of 16 Type & TypeLAB
She has spent the last 13 years coaching managers to deal with communication and growth struggles through the unique lens of personality type-based coaching.
Find out more about 16 Type here: 16type.org
***
🥚 Huge thanks to EggForward for letting us use the space!
This event is capped at 30, so be sure to RSVP if you want a seat.

This is not their office in Omotesando! Read the location details carefully after you sign up.
***
What is 16 Type?
16 Type is a community that helps you improve organizational communication, relationships, and performance through ground-breaking, proven 16 Type methodology.