From Intern to Innovator: A Path to Empowerment in Finance Tech with WorldQuant
Nov 30 @ 07:00 - 09:00 JST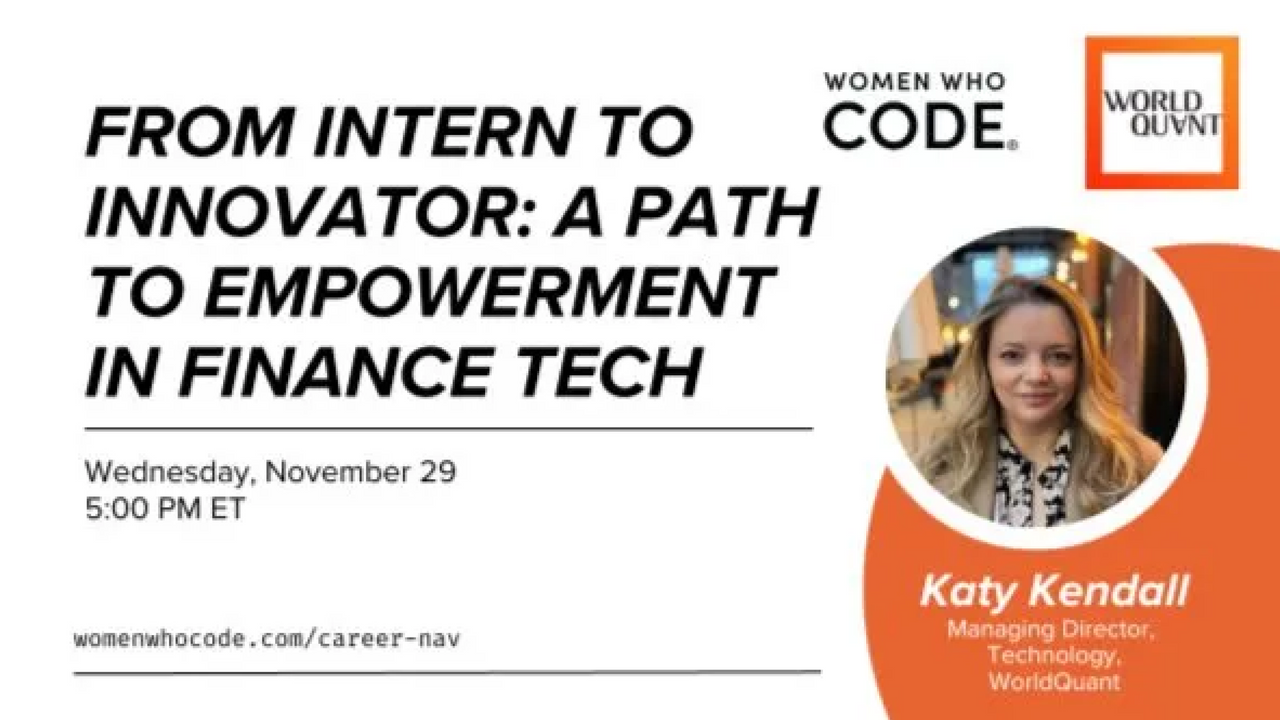 Details:
💫 Join the WWCode Global team and our Partner WorldQuant for tips and strategies to succeed in your career as a technologist in finance tech and beyond!
🤝 About WWCode Partners and Partner Events
Women Who Code Partners are organizations that work with us to provide opportunities and educational content to help empower you to excel in your technology career. Our Partners are passionate about supporting a more equitable and diverse industry. Join these events for great content from technology leaders and to hear about opportunities to work with our Partners.
🗓️ About This Event
Join WWCode Global and WorldQuant as our speaker shares her personal career path of starting as a Morgan Stanley intern, working on monolithic systems written in company-specific languages, to leading a technology organization specializing in quant solutions. Join to gain insights, strategies, and tips for your career that are tailored to empower you as a diverse technologist. Get ready to be inspired by an experienced technologist as we discuss her advice for success that you can apply to your tech career, no matter your stack or industry niche
Why you should attend:
Ask your questions of an experienced technologist who has advanced in her career from an intern to a leader in tech.
Connect and network with other members of the WWCode community.
Hear about opportunities to work with WorldQuant.
About the speaker:
Katy Kendall is Managing Director and Head of Embedded Technology at WorldQuant, a quantitative asset management firm specializing in technology-driven signal building and trading. She has 16 years of experience in Software development focusing on quantitative finance, large-scale systems, and microservice architecture. Her main interest lies in solving problems in a user-centric way, ensuring solutions are most usable and technically sound. When she is not designing architecture for business problems, she is running around after her kids, biking and filling her house with IOT devices.
💻 This is an online event. Register now.
************
🔍 See More Opportunities from Our Partners
Scholarships & Ticket Giveaways
Share Your Resume with Hiring Partners
************
Code of Conduct + Issue Reporting
Women Who Code is dedicated to providing an empowering experience for everyone who participates in or supports our community. Our events are intended to inspire women to excel in technology careers, and anyone who is there for this purpose is welcome. Because we value the safety and security of our members and strive to have an inclusive community, we do not tolerate harassment of members or event participants in any form. Our Code of Conduct applies to all Women Who Code events. Any issues? Reach out to global@womenwhocode.com.