How to Involve People With Invisible Disabilities In Inclusive Design
Sep 27 @ 20:00 - 21:00 JST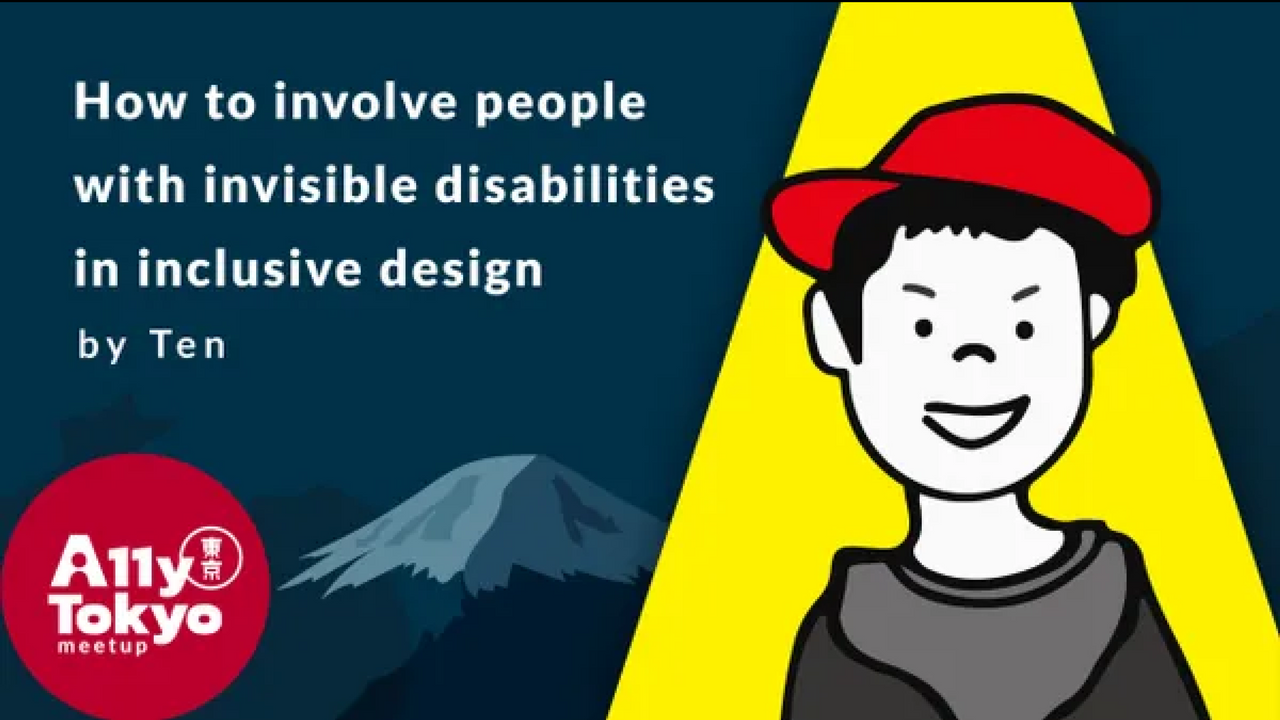 Details:
This presentation will be given in Japanese. There will be UDtalk generated Japanese captions live fixed by volunteers.
Translated captions will be auto generated based on the fixed captions. The way to view captions will be explained.
Presentation Summary
The topic is "Doing inclusive design inspired by the challenges and characteristics of invisible disabilities"
There are many people with disabilities that are not apparent to others.
The lack of awareness for these disabilities can cause problems for
people with nonapparent disabilities.
We are welcoming Ten, who founded the company Ledesone (レデソン), which is developing inclusive partner service (services for corporations and organizations) and platform service (in-house services and projects).
Inclusive Partner Service: Offering training and tailored solutions to corporations and organizations on how to work with people with intellectual or developmental disabilities by using the concept of inclusive design and universal design.
Platform Service: Developing in-house projects to create opportunities and new businesses/services to include people with disabilities in society. For instance, the "Hattatson" project is a project with the concept of creating a society where each person can live comfortably, co-creating new businesses with individuals with intellectual and developmental disabilities.
Co-creation Program: A short-term co-creation program where individuals with intellectual and developmental disabilities and those without disabilities work together to address the non-apparent issues in society. This is an annual program.
Hattatson Fest: An online event aimed at raising awareness on intellectual and developmental disabilities and non-apparent issues, by letting many people know about the efforts of companies, organizations, and individuals who are working on these issues.
Time Table
20:00 - 20:10 Introduction
20:10 - 20:50 Presentation
20:50 - 21:05 Q&A
21L05 - 22:00 Socializing Session.
Presenter bio
Ten is the CEO or Ledesone LLC.
Established Ledesone as a sole proprietor while still in university, and later incorporated it in July 2020. Since then, they have been active as a planner challenging inclusive design that is inspired from individuals with disabilities and characteristics that are hard to understand from the outside. Oragnizing the co-creation project "Hattatson" with individuals with intellectual and developmental disabilities. Additionally, Ten also works as a guide helper and a home helper for individuals with disabilities as a side job. Ten is an individual with LD (primarily dyslexia) and ADHD.
Sponsors
A11yTokyo is looking for sponsors to make this event more accessible and help participants learn more about people from different backgrounds, cultures, countries, industries, and any other differences that one may not have imagined before!