Jeff Gothelf & Josh Seiden Present: Outcomes, OKRs and Lean UX - TOKYO
Feb 19 @ 09:00 - 17:00 JST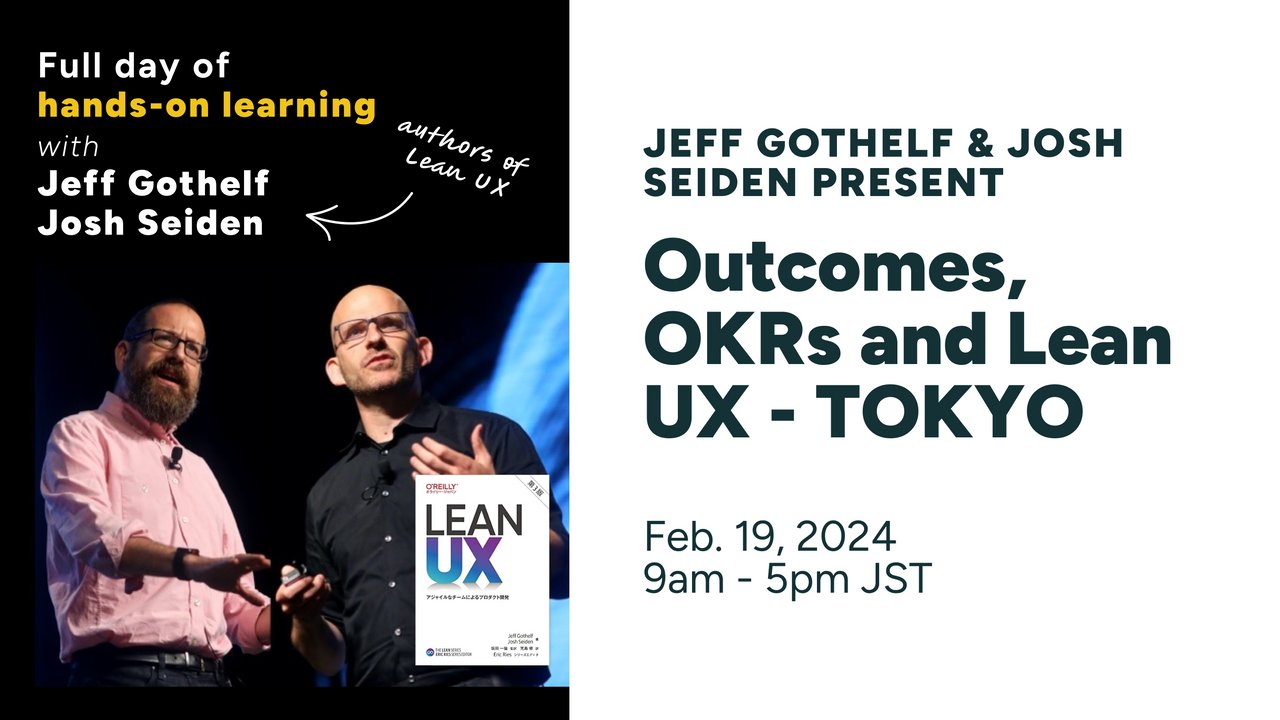 Details:
Grab the early bird ticket before the year ends! Special 15% off for Creative Tokyo members!
Date and Time
February 19, 2024 · 9am - 5pm JST
About This Event
Lean UX authors Jeff Gothelf and Josh Seiden will be coming to Japan and holding a special one-day course! This is a rare opportunity to learn from the authors of Lean UX, Sense & Respond, Lean vs. Agile vs. Design Thinking, Outcomes Over Output and their forthcoming book on OKRs, Who Does What By How Much.
Event Overview
In this program, Jeff and Josh will help you improve your design and product management skills.
Through lectures and workshops based on real-life experiences, you will learn useful methods for product development and practical methods to incorporate them into your daily work. This includes the following:
- How to define and implement "outcomes" that provide true value to customers
- "OKR" to clarify and align team and organizational goals
- How to put into practice the "Lean UX process" that increases team agility and leads to the discovery of products to be developed
Who Should Attend
- Product Leaders
- UX Designers
- Agile Coaches and Delivery Leads
- CEOs
- General Managers
- VPs and Directors of Product
- VPs and Directors of UX
- CTOs and VPs of Engineering
Workshop Agenda
This is a one-day program where you can intensively learn about outcomes, OKRs, and Lean UX.
Morning: About Outcomes and OKRs
- What is outcome?
- How to define outcomes and decide which outcomes to focus on
- Why should we use "outcomes" in product development, product management, and product design?
- Why Outcomes can help you become more agile
- What are good OKRs?
- How to write OKRs
- Business planning with OKRs and outcomes – outcome-based roadmap
- What about OKRs?
- Overview of product discovery
- Pitfalls and traps that tend to fall into when implementing
Afternoon: About Lean UX and Product Discovery
- How to write a "Business Problem Statement"
- How to uncover solution hypotheses
- How to define your target audience using Proto Persona
- How to write a solution hypothesis
- How to define the risks of your proposed solution
- How to design and conduct a quick evaluation to determine whether a design solution brings value to customers
- A customer-centric prioritization method based on facts and data
- Optimize communication with designers, engineers, product managers, and executives
- How to establish agile cross-departmental collaboration using Scrum
- How to share and understand the importance of good UX design across your organization
- Approaches to advancing innovation from startups to major corporations
- Strategies to maximize customer information
Your Instructors
Jeff Gothelf and Josh Seiden are best known as the authors of Lean UX. Their books on Design, Product Management and Agility have taught readers how to be more collaborative, more aligned to strategy, more customer-centric, and more agile. Now, in response to growing demand, they will both be traveling together to Japan in 2024. Don't miss this unique opportunity to learn from them in person.
Jeff Gothelf
Jeff helps organizations build better products and executives build the cultures that build better products. He is the co-author of the award-winning book Lean UX (now in it's 3rd edition) and the Harvard Business Review Press book Sense & Respond.
Starting off as a software designer, Jeff now works as a coach, consultant and keynote speaker helping companies bridge the gaps between business agility, digital transformation, product management and human-centered design.
Josh Seiden
Josh Seiden wrote the book (literally!) on Outcomes. His book Outcomes Over Output has over 600 5-star reviews on Amazon. Josh is a highly regarded trainer whose classes consistently generate great feedback. Whether you've read his book or not, come join this fun, high-energy class to learn practical and grounded ways to make your team more effective.
Other Notes:
- The event will be held in a face-to-face workshop format throughout the day.
- We have materials for simultaneous interpretation from English to Japanese and Japanese translation.
- Breakfast (snack), lunch, and drinks are included.
- We are planning a social gathering after the workshop ends (17:00). (Meals and drinks included)
- Please also join us for the social gathering
- We will inform you of the venue later.