Mercari Design Talk #3 : Work process of Mercari designers in Japan
Dec 7 @ 19:00 - 20:00 JST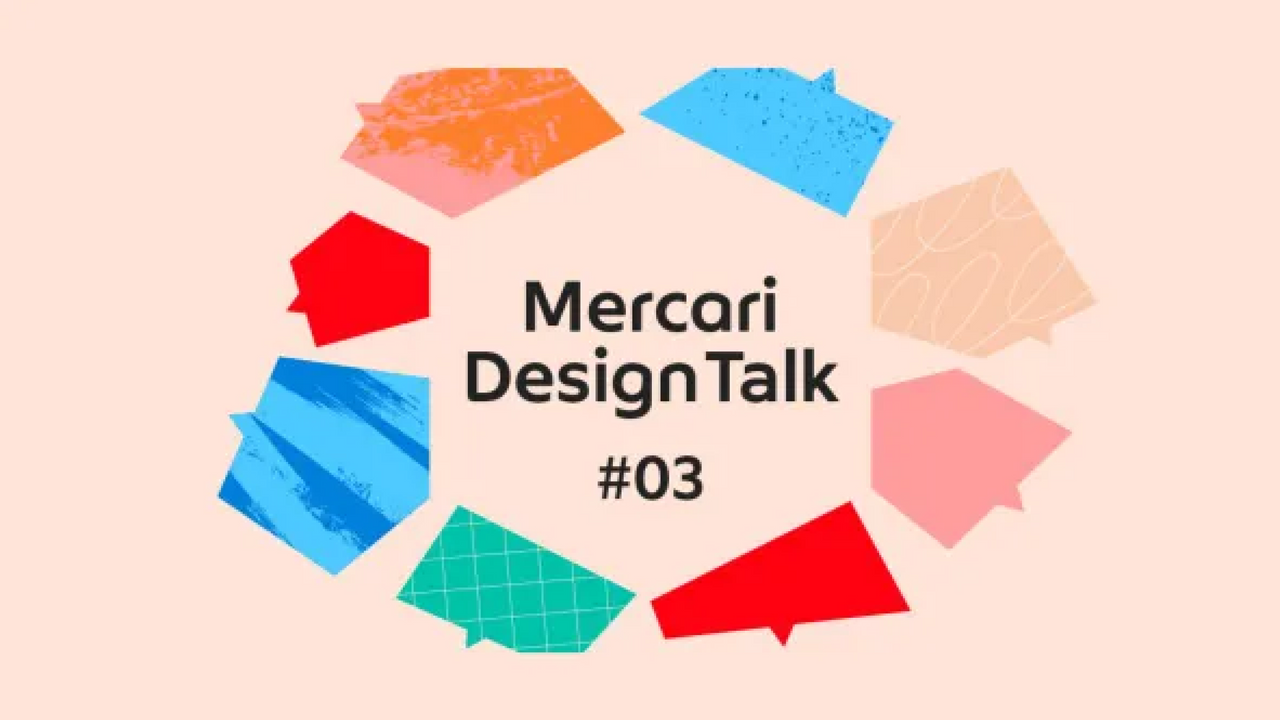 Details:
📌 What is Mercari Design talk
Join us for the third round of Mercari Design Talk!
Our first two rounds gave an introduction to Mercari's Design Team as well as insight on how our different functions within UX collaborate with each other. This time, we will expand on this and discuss how UX collaborates with its product and engineering peers.
Share your thoughts on social media through the #MercariDesignTalk tag.
3回目のMercari Design Talk、ぜひご参加ください。
第1回、第2回では、メルカリのデザインチームの紹介と、UXチームの中でデザイナーとリサーチャーがどのようにコラボレーションしているかについてお話ししました。今回はそれをさらに発展させ、我々がプロダクトやエンジニアリングのステークホルダーと、どのようにコラボレーションしているかについてお話しします。
[#MercariDesignTalk] 投稿も大歓迎です。
📌 About Mercari's UX design team
Our team covers all areas of designs for customer experience, from UI/UX design within the app, new service design and communication design for marketing to asset design for branding.
メルカリのUXデザインチームとは?
メルカリのアプリ・WebのUX/UIデザインを中心に、マーケティングチームとコラボレーション、新たなサービスの機会発見から実現に向けた活動、既存のUXの磨き込みまで、あらゆる領域を担当しています。
📌 How to Sign Up
If you would like to attend the event, please register via this google form. Please note that you must signup via the Google Form to ensure that the Zoom invite will be sent to your email.
Limit: 300 people
*Application deadline: 23:59 Mon, Dec 4, 2023
*Please understand we might not be able to invite all if the number of applicants reaches the limit.
イベントの視聴をご希望の方は、google form にて申し込みしてください。なお、Zoomの招待メールを確実にお送りするためには、Googleフォームからご登録いただく必要があります。
定員:300名
※申込み締切: 2023/12/04(月)23:59 まで
※応募者人数が上限に達した場合抽選とさせていただくことがあります。
📌 How to Join
The event will be held online.
The Zoom URL for the day and detailed participation instructions will be sent in advance to the e-mail address you provide.
オンライン開催です。
お申し込み頂いたメールアドレス宛に事前に当日のZoom URLと詳細な参加方法をご案内します。
📌 Event Schedule
19:00 ~ 19:10: Openings
19:10 ~ 19:20: Collaborating with product and engineering. Managing Japanese language in Mercari
19:20 ~ 19:30: Design Review
19:30 ~ 19:40: Relocating to Japan
19:40 ~ 20:00: Q&A session
20:00 ~ 20:10: Closing and Hiring Positions @Mercari
📌 SPEAKER DETAILS
Mercari UX Design Team Manager, Asako Miyamoto
She joined Mercari, Inc. in 2021. Asako promotes design operations (DesignOps) to maximize the contributions of design teams to the company while also being involved in product development as a UX designer.
2021年より株式会社メルカリに入社。UXデザイナーとしてプロダクト開発に関わりながら、デザインチームの貢献を最大化すべくDesignOpsを推進している。
Mercari UX Design Team UX Lead, Shoko Morishita
Joined Mercari, Inc. in 2018. While working on product improvement, she promotes design reviews and develops guidelines to improve the quality of output and productivity as a team.
2018年より株式会社メルカリに入社。プロダクト改善に従事しつつ、チームとしてのアウトプットの質・生産性向上のため、デザインレビューの推進やガイドラインの整備等を行っている。
Mercari UX Design Team Manager, Masakazu Iwabu
Joined Mercari, Inc. in 2022. Explores how to connect customer experience with business growth while working on product development through customer experience perspectives.
2022年より株式会社メルカリに入社。UXの視点からプロダクト開発に取り組みながら、カスタマーエクスペリエンスをいかにビジネスの成長につなげるかを探求している。
Mercari UX Design Team, Alisa Salikova
Joined Mercari, Inc. in 2022. Intends to provide design and logic behind her work while working on product development to improve customer experience and business growth.
2022年より株式会社メルカリに入社。顧客体験の向上と事業成長を目標とし、プロダクト開発に取り組みながら、確かなデザインやロジックを提供できる仕事を心がけている。
We're looking forward to seeing you at our event soon!